Dr. Tonjanika Jackson provides competent and confidential mental health treatment services to both adolescents and adults.
Goal
To provide unconditional positive regard, genuineness, and an empathetic understanding while meeting people where they are---to inspire them to live out their life's purpose.
Services Offered
• Coaching/Consultations - Workplace Culture, School Environment
• Consultations, Functional Behavioral, Assessments (FBA) and Behavioral Intervention Plans (BIP), Assistance with 504 Plan Initiation and Implementation, Assistance with Individualized Education Plan (IEP) Initiation and Implementation.
• Counseling/Psychotherapy Services.
• Training and Group Presentations.
• Mentoring Services.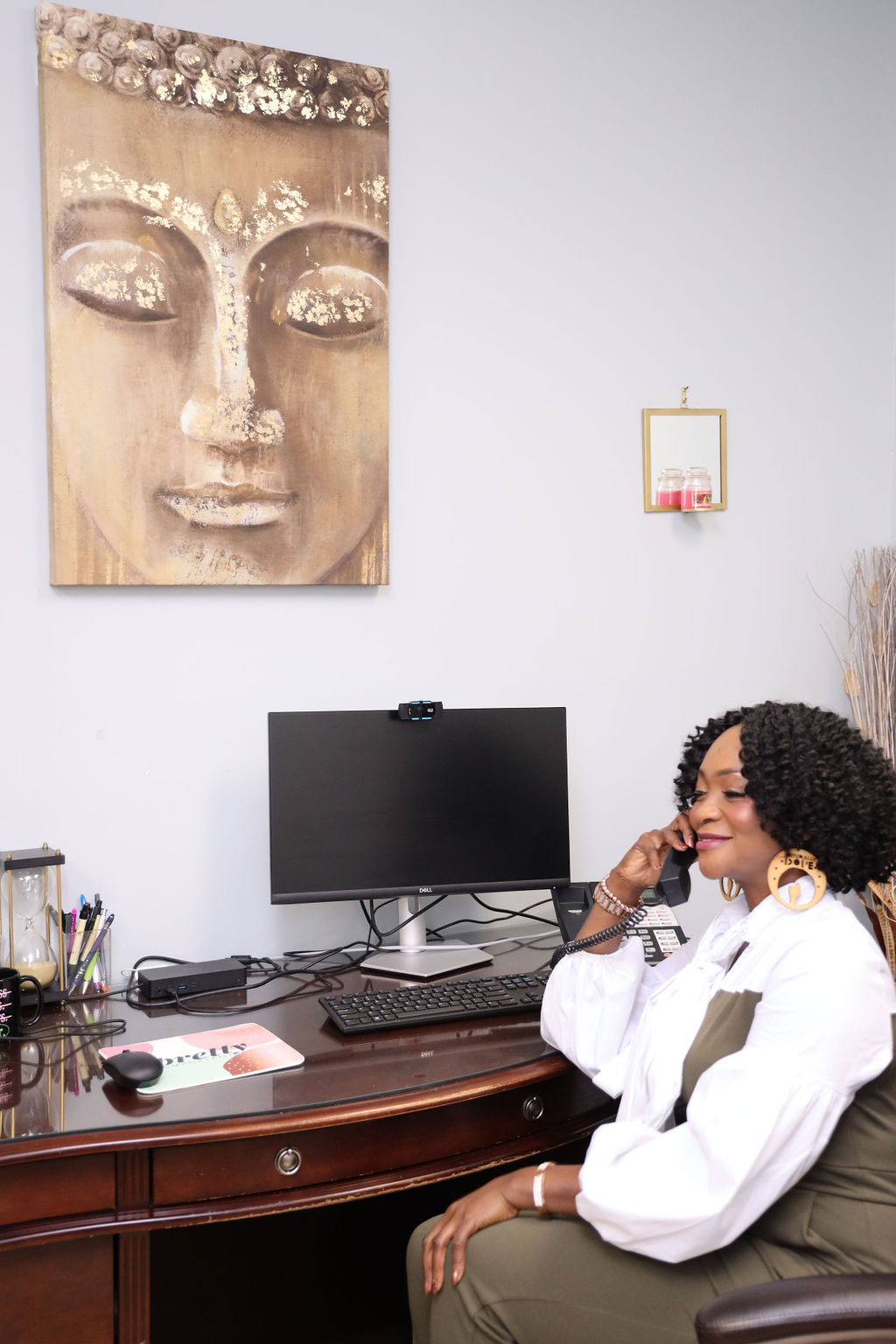 Specialty Areas
Anxiety
Depression
Bipolar Disorder
Grief and Loss
Anger Management
Trauma
Substance Abuse Treatment (Co-Occurring Disorder Perspective)
Life Transitions
Identity
Cultural Issues
LGBTQ+
Behavioral Issues
Coming of Age Issues
Self Esteem
Teenagers
Career Exploration
Children
Personality Disorders
Mood Disorders
Stress Management
School Based Consultation Services
PTSD
Assistance with 504 Plans and IEP Management
Payment Options
Self-Pay: I do offer a self-pay option to clients who prefer that a diagnosis not be assigned (diagnoses are required by insurance companies). You also may prefer to just have more privacy and control over your medical records. I'm here to meet you where you are so that you can have autonomy in deciding the course for the obstacles that you may be facing. Self-pay is one of the many options you have for accomplishing your goals.
Sliding Scales: Sliding scales are reserved for clients who have no insurance. Sliding scales are also based on availability and financial need. Please contact me to determine eligibility.
Insurance Companies: I am currently credentialed with the following companies and there may be more added as needed. Please verify provider network participation and insurance coverage prior to initial visit. I cannot guarantee participation or coverage.
Aetna, Amerigroup, Anthem, BlueCross and BlueShield, Cigna, Magellan, Multiplan, Tricare, United Healthcare, United Behavioral Health, Optum, - I am also a Care Management Organization Provider (Caresource).
Accepted Payment Methods: Cash, Check, Mastercard, Visa.
Session Rates—(Telehealth and In-Person)
Initial Intake Session (50-60 minutes): $225
Individual Therapy (45-55 minutes): $145-$165
Family Therapy (45-55 minutes): $145-$165
Group Sessions—(Coming Soon in 2023) (rates to be announced)
Doxyme Platform Utilized for Telehealth Sessions. This is a HIPPA Compliant Platform.
Teladoc Provider
I am currently a provider with Teladoc which is a platform that provides virtual medical services to clients who have this contracted option with their respective companies. Please note that scheduling with me for these services, will need to take place directly through the Teladoc Platform.